Okay. I just happened to see an ad for the Kardashian Kollection, so I clicked it. I was bored, so I figured I would check it out.. and OH MY GOD! I'm in love. Seriously, I had to stop myself from pulling out my credit card and ordering the entire line. I'm not a person who is totally in love with lines designed by celebrities. Most of the time, I feel like it's something very basic, with the celebrity's name on the tag. Not worth it. But this collection, or "kollection," is definitely a collection I would consider purchasing from.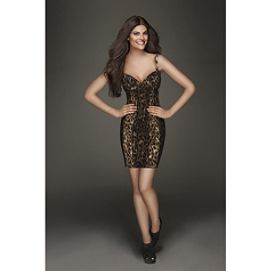 One piece that I fell in love with was the dress above. I've been obsessed with finding a cute dress to go out in and I feel like this would be a great choice! It also comes in grey/black for those who aren't really wanting an animal print dress, but something a little more "conservative," so to speak.
Anyways, I
love
love
LOVE
this collection and I hope I am able to purchase a few pieces from it very soon. You should all take a look and let me know what you think. Is the Kardashian Kollection
AMAZING
or is it just another celebrity collection in your opinion?
XOXO Brittany